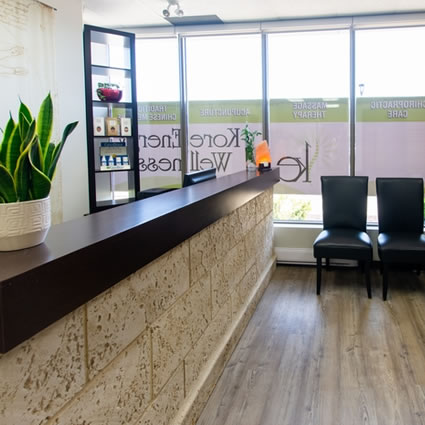 New Patients at Kore~Energy Chiropractic
Welcome to our practice! Before your appointment, we will provide you with a comprehensive case history form that we ask you to complete prior to your arrival so that we can fully understand your past and present health care state. (If you don't have access to a computer, please come in 15 minutes before your appointment to fill out the forms). If you have any present or past X-rays or MRIs relevant to your condition, we ask you to bring them in.
The First Visit
Here's what you can expect at this initial appointment: Our front house team will welcome you with a huge smile and get you familiar with our office and introduce you to Dr. Nancy to discuss your health concerns and goals. You will then receive:
A Detailed review of your case history
A comprehensive chiropractic examination which will include posture analysis, palpation of your spine and surrounding tissues and an in depth advanced assessment of your nerve and energy system to determine how well your brain is communicating with your body.
If warranted, X-rays will be requested at this time.
Patients appreciate that we explain everything in advance! Please allow 45 minutes to an hour for this appointment.
This appointment usually takes place the day after your first visit. Dr. Nancy will review your case in detail with you. Your results, recommended care program and financial investment will be explained to you at this time. If chiropractic care is accepted you will receive your first adjustment. This visit also takes 45 minutes to an hour.
At Kore~Energy Chiropractic care is customized based on individual needs and comfort levels. Each adjustment could range in time depending on which technique is being used to get your maximum results. But don't think the brevity of a regular visit lessens its value! With the groundwork laid, we can quickly size up the condition of your spine and nervous system, adjust you and get you on your way. Like a regular workout at the gym, each visit builds on the ones before. Miss a visit and you can lose the momentum necessary to make the needed changes. We recognize your time is valuable. So we do everything possible to run on time and minimize the impact on your busy life.
Your chiropractic care will begin and continue as scheduled until your condition has been fully corrected or until maximum possible improvement has been obtained. Progress evaluations will occur periodically to monitor progress and as indicated maintenance care or wellness care strategies will be implemented. As patient education is a big part of what we do. Dr. Korenic educates every patient on the idea that chiropractic is a lifestyle strategy that can keep you healthy for a lifetime.
Cost of Care
We offer a pay per visit fee of $55 a visit, or we may offer adjustment packages that are also available and suitable for your spinal health care needs.
Book an Appointment
Contact Kore~Energy Chiropractic today to schedule an appointment! CONTACT US »
---
New Patients at Kore~Energy Chiropractic | (905) 369-5433